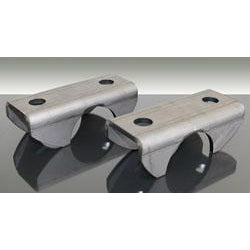 REAR TRAILING ARM AXLE SEATS, PR. 60-72 CHEVY C10-C20,
 When changing rear ends in your Chevy C10-C20 coil spring truck, it is always a good idea to install new trailing arm axle seats. Available for 1960-72 Chevy trucks.
Made of 1018 cold roll steel, these items not only make for a cleaner installation, they have locating holes to help maintain proper rear axle alignment!

Kit includes:
• Axle Seats
Available for all 1960-72 Chevy trucks with trailing arm suspension.  Will not work on Chevy or GMC with leaf spring suspension.
For leaf spring suspension, use part # RAS6787
---
We Also Recommend